B2B Video Marketing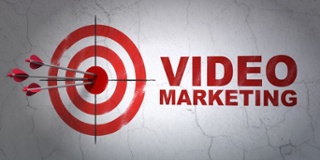 The future is now when it comes to utilizing video in your small business B2B marketing. According to ADWEEK, by 2017 nearly 70 percent of online traffic will be video-related. No longer are a nice to have a tool in your marketing arsenal, but a necessity in light of the emphasis Google and other search engines placing on video content. Video marketing will become an essential part of your marketing communications effort in the very near future.
Achieve Business Marketing Goals
Video marketing can assist you in meeting many of your business marketing goals like:
Increase Website Traffic
Improve Search Engine Rankings
Improve Social Media Engagement
Reach Sales Prospects that Prefer Video
Popular Ways to Use Video Marketing for Small Business
Tell Your Story – Known as "Explainer" Videos

Explain about your business
Explain a new product or service
Explain your company history
Interviews with company personnel

Share Your Knowledge

"How to" do something
Product or Service Reviews
Product or Service Application Tips or Tricks
Product or Service Reviews
Webinars

Success Stories

Client Testimonials
Application story
Promotional Videos

Product or Service Sales
Seasonal Promotions
Tours
How to Get Started with Video
There are two basic options when it comes to employing video marketing.
Do-It-Yourself
Outsource Video Production
What is the best option? It will depend on your willingness to learn video production. If you have the time or can afford to immerse someone in your company in learning video production then the D-I-Y route maybe a good way to proceed.

Outsourcing video production is an easy way to proceed but will be the most costly. Of course, like most things, there is the top shelf and the bottom shelf with many choices in between for both of these options.

As a small business ourselves we utilize a hybrid of D-I-Y and outsourcing for our own video production and for our clients. We do everything ourselves except the actual production of the video. After many hours of research, we decided on using an online, automated video tool that has enough bells and whistles to produce a good video at an affordable price.

Production of a video is only one part of a multipart process to ensure producing a quality video.
Video Marketing Project Steps
Develop your video marketing strategy & goals
Determine the type(s) of video you want to make

Identify the topics that interest your customers most

Decide to create the video in-house or outsource its production
Research video production options
Develop a script and accompanying storyboard
Identify the images, and video that will be required to tell your stories
Create your video
Distribute of your video
Promote your video
Finally, here are some general tips regarding producing videos.
Quick Video Tips
How long should my video be? Studies show that people have short attention spans, so a higher volume of short videos is generally a better strategy. The exception here would be Instructional videos where the length of time is dependent upon how long it takes to demonstrate or teach what you are instructing your audience to do.


Tell stories and be sure your content is relevant and valuable to your customers
Show people not just products


Include a call-to-action at the end of your video – this could be your website address, hashtag, business phone number, email, location, or a special offer or any combination of these elements that makes sense.


Create a Budget for either D.I.Y. production or outsource production don't forget to include the media assets like pictures and videos you might need.


Create a Timeline - Create a schedule for your video creation and distribution. How many videos would you like to create each month? Set dates for video creation, editing, and publishing. Even if you are hiring out these functions, you will still need this timeline.
We can assist you in many of the aspects of using video in your small business marketing. We offer turnkey video marketing production and marketing services as well as a number of a-la-carte video services options.
MyMarketingDept Inc. Video Marketing Services
Video Marketing Total Service - Including Marketing Strategy, Production, Distribution & Promotion


Video Marketing Only – Strategy/Goals, Budget, Script & Storyboard, Distribution and Promotion


Video Production Only - Script & Storyboard, Video Production


A-La-Carte Video Services

Strategy/Goals, Budget
Script & Storyboard
Distribution and Promotion
Video Production Only
Video marketing and production may seem like it is out of reach of the typical small business, but this is a fallacy. This effective marketing medium is growing in importance and is available to even the smallest business of one person.
Here is one of our examples:
If video marketing is something that you want to add to your marketing toolkit contact us and we are happy to discuss your options and help you in any way we can.