Small Business B2B Marketing

 
We Help Small Business Make Profitable Connections
MyMarketingDept. Inc helps you achieve an affordable small business marketing program in less time and with less effort, allowing for a constancy of marketing every day that gets results. 
We support small companies that sell consultative products/services to other businesses who are struggling with marketing problems like:
Improving sales lead quality

Increasing sales leads

Taking their business to a new sales level

Losing market share to competitors

Wanting to generate sales leads from their website

Strategically re-positioning their marketing message
If you face any of these marketing challenges or similar ones for your small business, we can help.
B2B Sales Leads Call You!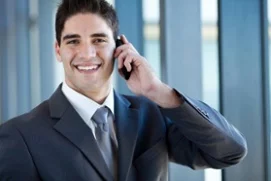 Too often small businesses lose sight of their real marketing goal. They often are caught up in a dizzying world of marketing "mumbo jumbo" associated with the latest marketing jargon when trying to generate sales leads for their business. Unfortunately, this usually results in a lot of wasted time, money and no new business leads.
The question you need to ask yourself is - "Do I want to be a B2B marketing expert? Or would I rather manage a professional marketer to plan and execute my marketing with one simple objective to generate more B2B sales leads for my business."
What if you could get the kind of B2B sales leads you need? You know; new business leads where sales prospects call you and say; let's meet or talk on Tuesday at 10:00 AM, well you can!
Our B2B Marketing Benefits
Our deliverable is to grow your sales. We do this by generating high-quality B2B sales leads obtained by sales prospects that call you! 

We develop a common sense marketing plan that allows you to market your business every day afford-ably. And, we eliminate the small business marketing roller coaster and most importantly, we won't take you for a ride.
 
We provide a turnkey B2B lead generation service like an in-house marketing department, only at a fraction of the cost of a marketing person on your staff. 
 

To develop and implement your B2B marketing we work alongside our clients; with MyMarketingDept, you are never alone.
Our Marketing Approach
We begin by asking questions and understanding your target market of potential customers. We then develop a customized B2B marketing plan that establishes your business goals and objectives along with reasonable performance criteria for measuring success.

We then develop a customer-centric marketing communications strategy and offer a variety b2b marketing services to help your company grow profitably.
We follow through by orchestrating outbound and inbound marketing services into layered B2B marketing tactics proven with over 25 years of creative content marketing expertise from a professional small business B2B marketing consultant.
Bottom Line
MyMarketingDept Inc. is a practical, inexpensive, small business marketing solution. It is specially designed to help small businesses and independent professionals increase sales and improve sales lead quality.