Small Business Distribution Strategy
A well thought out small business distribution strategy provides informed decision making on types of small business distribution channels, distribution partners and tips on the most profitable small business distribution strategy for you.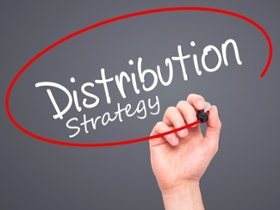 There are important reasons to utilize distribution partners and critical questions to get answers on deciding the appropriate channel of distribution for your business.Small Business Distribution Strategy: Getting your product or service to market may require your sales effort and/or the physical transfer of your product with one or more intermediate parties before it reaches the ultimate end-user. The process of getting products or services from its source to market is referred to as a 'distribution channel' or 'chain.'
Reasons for Using Distribution Channel Partners:
Selling - A common reason to expand sales quickly by employing either directly or indirectly a channel partner to perform the task of selling your products or services


Physical Product Distribution- Products that are sold in a master pack and require a cutting, or breaking down the of the master pack to be sold in smaller quantities shares marketing expenses, provides credit and last mile delivery - in local markets


Value Add - Where a channel partner adds to the value of the product or service sold through providing additional services to the end-user. Examples of vale add are installation, assembly, and customization of the product or service.
Small Business Distribution Channels:
Distribution Types

Distribution Methods

Company Owned or Provided

Direct Sales

Your Sales Force
Catalog/Mail Order
Telephone
Internet

Outside Sales Agents

Indirect Sales

Independent firm that only performs the sales function on your behalf

Distributors/Wholesalers

Indirect Sales

Independent company usually carries physical inventory & performs the physical distribution and sales function on your behalf. Can sell to retailers/dealers or direct to end-user.

Franchising

Indirect Sales

An independent reseller that purchases the rights to distribution or sales territory of a single product/service brand

Retailers/Dealers

Indirect Sales

Independent firm that sells to end-users and usually inventories physical product

Value Added Resellers (VARs)

Indirect Sales

Independent firm that sells to end-users and adds tangible value to the product or service being sold
Deciding the Right Small Business Distribution Channel Strategy:
To select the distribution channel appropriate for your business requires assessing a wide number of important factors about:
1. Your Business
the precise nature of your business


the type of product or service you want to sell


the geographic make-up and location of the markets you serve


Selling costs versus the sales process control you desire


the profit margin of your products or services
2. Your Customers
preferred purchasing methods of your customers


size, quantity, price, convenience, variety


Importance of Brand


Required or Preferred pre-sale services by your customer


Required or Preferred after sales services by your customer
3. Your Distribution Partners
Intensity of distribution partners to your product or service


selective distribution, exclusive distribution, limited product offering, private label


Motivation of distribution partners


Ability to manage distribution partners


Integration of various types of distribution partners


Cost of distribution partners
Today, many companies use a mix of different distribution channels. As an example, you could augment a direct sales force, that calls on and services large established accounts, with agents, covering smaller customers and performing new business prospecting. There are other combinations of distribution channels appropriate for your business.
Your Bottom Line
A thorough analysis of all the critical factors to consider will lead to the best decision for your business. For more information on an analysis for your company, contact us now at 866-875-2534 or order now custom small business distribution strategy.