Easy Small Business Blogging Solution
MyMarkeketingDept. Inc. announces MyBloggingMachine an Internet marketing service that eliminates the time commitment to blogging and produces business blogs in their own words for small business.
Philadelphia, PA (PRWEB) December 11, 2012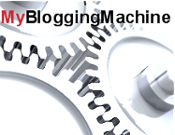 Today, MyMarketingDept. Inc., a small business B2B marketing consulting firm, announced the launch of MyBloggingMachine, a new blogging service especially for businesses that don't have the time, or writing skills, but need to drive website traffic and increase sales leads. Since 1998, MyMarketingDept Inc. serves small businesses that sell consultative products and services nationally by generating B2B sales leads. This new Internet marketing service solves a growing problem for small businesses that need to drive more potential customers to their website and convert them into sales leads.
"One of the frustrating problems for small business concerns their website and how to drive the right kind of traffic to their website and have quality content that will convert that traffic into sales. Engaging potential customers with quality blog posts on a consistent basis will solve this problem," explained Bob Hennessey, President of MyMarketingDept Inc.
"Blogging enables a small business to establish their voice as a leader in their field and local market by producing relevant, quality content that informs their potential customers," said Hennessey.
HubSpot, a leader in Inbound Marketing Software, backs Hennessey up with their research on the effects of small business blogging with these findings.
Blogging drives more website traffic: Companies that blog have 55% more visitors
Blogging increases lead generation: B2B companies that blog generate 67% more leads per month than those who don't
Blogging builds website authority: Companies that blog have 97% more inbound links
"These positive blogging effects exist for all businesses. The issue for small business remains the time commitment necessary to blog. When you wear three or four hats already finding the time to blog seems impossible, even knowing these compelling benefits," said Hennessey.
Given the many options to outsource blogging, what makes MyBloggingMachine a better choice .we asked Hennessey. "Our service employs a process that gives small business owners the ability to produce blogs in their own words and voice without having to write a word. This way they can communicate their own thoughts and key insights that they want to project to their target audience. We also analyze the title of the blogs insuring that the titles serve search engines and potential customers. We do this by employing a customer-centric-approach to creating the titles. Finally, unlike a lot of blog writing website we do this work ourselves and we have specialized expertise in writing content for B2B small businesses.
How about cost always an issue for small business as you know. How does the cost of your service compare with others on the market? "We invite cost comparison," Hennessey said. "Our cost structure offers a substantial value considering our blogs our written in our client's voice, our specialized B2B writing expertise and the effort required to manage others that could blog for you. We can supply a small business with a full year of blogs for less than $3,500 annually. We also offer a starter package of 10 blogs so a business can try us out before making an annual commitment, if that's their desire, Hennessey answered.
More information on this new small business blogging service is available at MyBloggingMachine or by calling .
###
About MyMarketingDept. Inc.
MyMarketingDept. Inc. is a national small business B2B marketing firm specializing in helping micro and small business get face-to-face sales meetings affordably. We offer a variety of Internet, inbound marketing and offline marketing services including our popular outsource marketing solutions. Founded on the principal that micro and small businesses deserve high-quality professional marketing we continue to seek smart ways of delivering affordable marketing solutions. For more information, visit us at www.MyMarketingdept.Com.